Facials Chicago
As you know, where you get your facials matters. At SpaForever in Chicago, IL, we offer facials that can help remove acne and fight wrinkles as well as hydrate, moisturize, rejuvenate, tighten and refresh the complexion. Not only do your skin type and choice of facial have to agree, you must have realistic expectations about our facials. So what should you know?
Facials Versus Other Cosmetic Procedures
The major benefit of facials is moisturizing the skin (for a potent removal of dead skin cells, try microdermabrasion instead). The moisturizing benefit of facials is not to be understated. By keeping the skin hydrated, you can prevent more pernicious fine lines and wrinkles from showing. It makes sense that skin that is dry and cracked is vulnerable to wrinkles.  Plus, facials containing well-studied antioxidants can help the skin do its job of keeping the skin's moisture barrier functioning properly.
If you want to temporarily improve the appearance of skin, facials are spot-on. Improved skin tone and texture can even last a few days to a few weeks. But for longer-term cosmetic procedures, chemical peels, IPL photofacials and collagen therapy may help. We offer plenty of services that can help you achieve your aesthetic goals.
However, it would be remiss not to mention the debate on the benefits of facials, which has been going on for quite some time. Some dermatologists recommend getting routine facials from a trained esthetician in order to keep skin glowing and clear, while others say they hardly do much. Extractions, when performed gently to avoid scarring, can help clear acne and promote better skin. Plus, facials increase circulation through massage of the underlying facial muscles. Depending on your facial type, a mask can help to purify, hydrate or calm your skin. To decisively claim they are not worth the investment is spurious.
The most understated benefit, perhaps, is the stress release factor. Facials are incredibly relaxing and can promote more mindfulness and self-care beyond the spa. The positive secondary effects of better stress management are numerous.
Not only that, our skilled aestheticians can bring you awareness on the importance of treating your skin well. Whether they identify a skin concern specific to your type, recommend products based on a skin assessment, or share feedback from delivering hundreds of facials Chicago, our aestheticians provide the outside perspective necessary to boost your skin care regimen.
What Can a Facial Do?
Every facial is different, but here are a sample of steps involved in a typical facial:
Cleaning: Facials begin by cleaning the skin and preparing it for later application of products. This cleaning is refreshing and helps to remove city pollution and other grime that contribute free-radical damage on the skin.
Extracting: This step is all about calming acne through the removal of pimples, blackheads and other blemishes.
Exfoliating: This step involves the application of exfoliative agents such as salicylic acid. These acids encourage the expulsion of dead skin cells and serve as a physical tool to aid cellular turnover.
Now you have an idea of the generic benefits (& limitations) of facials. Let's dive straight into our facials Chicago at the lovely spa, SpaForever!

Our Facials & Treatments
All 60 min unless otherwise stated*
Fast Forever Facial (30 min). This facial is designed to speedily give your skin the nourishment & moisturization it deserves. This facial includes one cleansing, a quick skin analysis, exfoliation, short massage, masque and moisturizer, perfect for a lunchtime quick fix treatment that will leave skin refreshed. It is a condensed version of our customer favorite. We know you're busy!
Revitalizing Eye Rescue Treatment (30 min). Have stubborn fines lines or puffiness around or under your eyes? Do people comment how tired you look all the time, despite that you get sufficient sleep? This treatment can help restore a refreshed look, firming and toning the eye area. Treat the delicate tissues of the eye area with a facial designed to gently moisturize. Double cleansing will remove all traces of makeup and help strengthen lashes. Diminish dark circles and smooth fine lines with a gentle eye massage.
Forever Facial. Our signature facial, this is all about delivering high-impact ingredients to your skin. We offer the traditional luxury and pomp you can find with just about any spa-level facial. No guest will receive the same treatment, because each one will be unique to that person and suit their skin type, leaving skin cleaner and more radiant than ever. The facial includes double cleansing, skin analysis, exfoliation, extraction (if needed), a professional massage, a special, customized masque, a gentle hands treatment, toning, balancing and moisturizing. You'll be enjoying every second as this facial rejuvenates your skin and mind.
The Forever facial is ideal for women and men of all ages and is customized at every step by your skin care therapist.
City Skin Control Treatment. Is your skin constantly battling pollution from cars and businesses down the street? Are you sometimes overwhelmed with your decision to be in the heart of Chicago, despite loving the city deeply? We understand the ambivalence of city life; we have all felt it.  Feel a bit better with a facial formulated to purify skin. This is an incredibly soothing facial if your skin looks red, inflamed or feels itchy from being exposed to the city elements for too long.
Teenage Facial. For the sensitive and ever-evolving teenage skin, a gentle treatment that prevents and addresses acne is key. Acne is not just limited to the teenage years contrary to popular belief, so it's a great opportunity to learn how to effectively clear up skin in advance of your adult years. You'll love how your skin bounces back and feel hopeful about your own skin's future. Who knows—maybe we'll inspire you to adopt better skin care habits! Our treatments, performed with products geared towards teens, are customized to each young guest's needs.
Even Out Facial. If you have an uneven complexion due to UV exposure, pregnancy or hormonal imbalance, we can apply results-oriented antioxidants to even it out. Combined with a home care regimen, it helps balance skin. Your skin will see brighter days.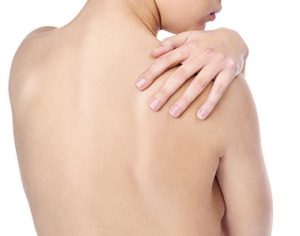 Sexy Back Treatment. Is your back looking dull? Do you suffer from dry skin? We can't wait to make you feel sexy again! Our ingredients will nourish your back and make it look super smooth and radiant. This treatment feels amazing. It includes double cleansing, skin analysis, exfoliation, extraction (if needed), a professional massage, a masque suited to your skin needs, a hands treatment, toning, and moisturizing. It's perfect for summer skin, special occasions or brides-to-be.
Regenerating Power Facial. A powerful treatment for those concerned with signs of aging. Ideal for prematurely aging, dry, dehydrated or sun-damaged skin. A combination of a vitamin and Hydroxyl Acid exfoliation with a massage and Multivitamin Power Recovery masque make this treatment perfect therapy for the skin. The result is a firmer, smoother and revitalized complexion.
Away with Acne Treatment. A revolutionary treatment formulated especially for adults with ingredients to clear and prevent adult acne while addressing the needs of aging skin, this treatment controls acne and makes skin look clearer and healthier. In order to achieve the desired results, guests should receive a series of treatments — depending on skin condition – and continue with monthly maintenance and a proper home regimen.
Questions?
If you have any questions about any of our facials, ask away. We can examine your skin and personalize the facial to your liking. We can also choose what facial will work best on your skin. At SpaForever, we want your facials Chicago to be every bit as rejuvenating as you expect, every time.
*This time includes a 5-minute pre-interview and undress time, 50 minutes of hands-on time and 5 minutes at the end for you to re-dress.